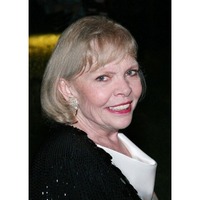 1938
Joy Ann Claussen was born on 14 Aug 1938 in Chicago, Cook, Illinois, USA as the first child of Eugene Claussen and Ruth Joy Claussen. She had one sibling, namely: Peter Claussen.  
1940
Joy Ann Claussen was counted in the census in Apr 1940 in Chicago, Cook, Illinois, USA as a one-year-old, female, single, white, daughter. Also in the home was her father, Eugene Classuen and her mother Ruth Claussen.
2021
Joy Claussen Scully, actor, singer, friend to all, died on Tuesday, October 12, 2021, in Camden after a prolonged battle with lung cancer. Born in Chicago in 1938, the daughter of Eugene Claussen and Ruth Joy, Joy Claussen grew up in Oakmont, PA.  After Carnegie Mellon and the Pittsburgh Playhouse, she had seven leads in Off-Broadway musicals. She played the lead role of Hedy LaRue in the Pulitzer Prize-winning musical, How to Succeed in Business Without Really Trying, for two years with Robert Morse and Rudy Vallee.  Claussen was also featured as Aphrodite in the Broadway musical, Happiest Girl in the World.  She starred in over 200 national TV commercials and is perhaps best known as the 10-year spokesperson for AIM toothpaste. She acted in many network TV comedies, and performed in stage musicals all over the country, principally as Dorothy Brock in 42nd Street.  In May 2007, she played the cat Purscilla in Paddy Bell's DOGS, The Musical at the Piccolo Spoleto Festival, Charleston.  In South Carolina she originated the title role of Mother Juice that composer Greg Boatwright created for her in conjunction with the Palmetto Richland School for the Arts.  Claussen served on the Los Angeles board of the American Cancer Association and on the West Coast Council of the Actors' Fund of America. Claussen was a member of the Screen Actors Guild (SAG) and Actors Equity. In Camden, South Carolina, where she moved in 2005, she was a member of the Springdale Hall Club, the Camden Garden Club, and the Daughters of the American Revolution.  She is survived by her husband of 36 years, author Tony Scully, former mayor of Camden, by her brother, Peter Claussen (Nancy) of Sun City, Arizona and by numerous nephews and nieces.
At Joy's request, there will be no funeral. For those who wish, please contribute in her name to the Arts Center of Kershaw County. www.fineartscenter.org.